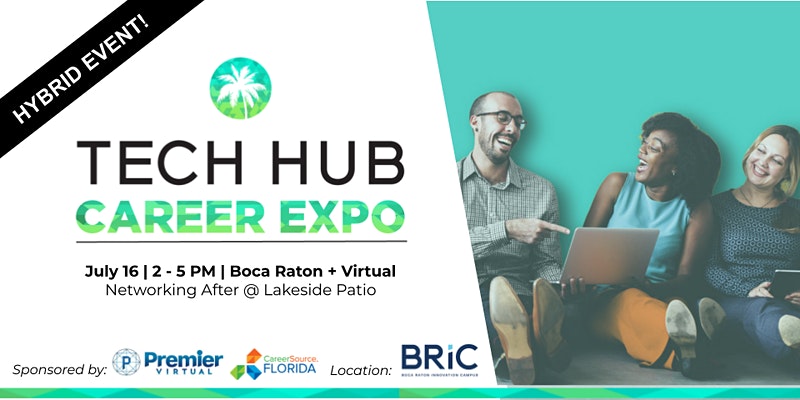 Tech Hub South Florida🌴 is partnering with the Boca Raton Innovation Campus, Premier Virtual and CareerSource Florida to bring together some of South Florida's best tech talent, new graduates, and the most vibrant community of tech professionals and industry leaders within the region!
⭐HYBRID Career Expo!
Our goal is to improve upon the traditional career fair experience by truly engaging both the talent and hiring managers by incorporating technology allowing working and non-working tech talent to attend and ultimately connecting them to local South Florida employers.
WHAT TO EXPECT
In-Person Expo: The in-person career expo will be held at BRiC, or the Boca Raton Innovation Campus. Come and make an impression, get your resume in hand with a major company in South Florida, and enjoy exclusive onsite activities such as tours of some of the companies located on campus, food trucks, professional headshots, and more!
Virtual Booth: Our virtual online expo is held on the Premier Virtual platform. It's designed to bring employers a wave of talented new job applicants, capture applicant data, and assist in the hiring process. There will be multiple categories such as Tech, Non-tech, Contract/Freelance, Internship, and Educational Partner Opportunities.
Educational Sessions: 30 minute educational workshops that will cover a variety of topics such as 'The Importance of Soft Skills' and 'Interviewing Tips & Tricks." This will be offered in-person only.
Networking : After the expo finishes at 5pm, will will have food trucks still available, the NEW Marcel Brewer's Coffee shop, open cash bar and networking on the beautiful Lakeside Patio! This is offered in-person only.